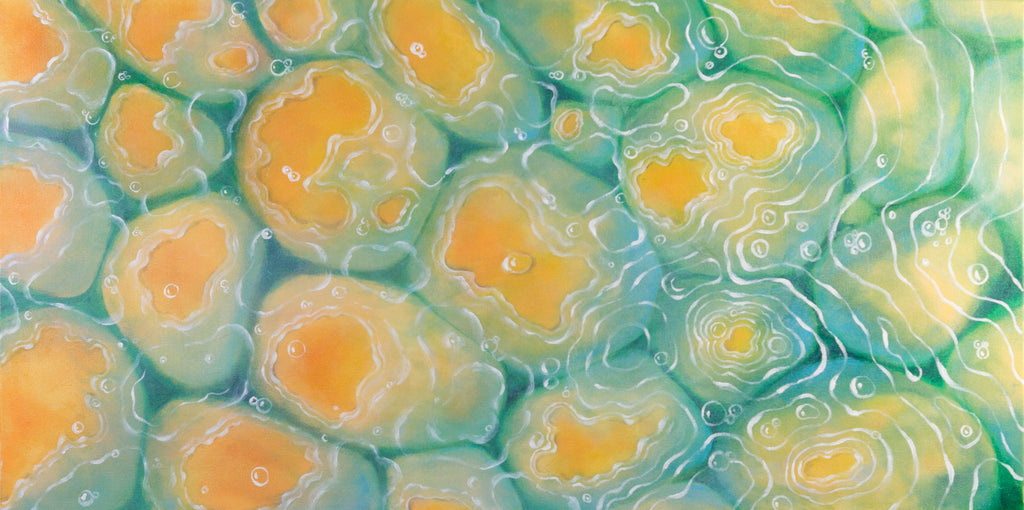 Wet Painting or Print
This abstract oil painting shows layers of color and shape when a liquid like water (or even ice) surrounds rocks. I wanted to pump up the colors in order to reflect just how alive I feel even a bunch of rocks and some water are--they contain the same universal energy that permeates our world and ourselves. I love the shapes of river rocks like these. I emphasized the frilly aspect of the ripples to bring out the very sensuous quality of water, especially as it bathes and caresses the rocks. Ever since I was a child, I have been fascinated by layers that we can see through as if they were veils that both reveal and obscure--palimpsests. Water with objects both above and below its surface is especially interesting to me. There is something very abstract about such things but which also have a very pagan sensibility, because of the emphasis on the powerful energy and sensuousness--aliveness--of the natural world.  
The original oil painting is 18 x 36"/46 x 91cm on canvas with a traditional .75"/2cm profile. The giclee print is 18 x 36" on archival paper.